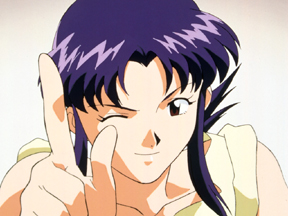 Konnichiwa! I am Katsuragi Misato, but you can call me Misato.
Welcome to my apartment! Here you can find character information on the major characters of Evangelion. *Warning* Spoilers for the second half of the series!


I am the Operations Director at NERV. I am also the self-appointed guardian of Shinji. I live in the city of Tokyo-3, after the Second Impact. NERV is located in Tokyo-3 and it exists to fight off the entities known only as Angels. The Angels are very powerful and are trying to destroy the world and wipe out the human population. The Second Impact, which destroyed Antarctica and half of the world, was caused by the Angels.



The Characters of Evangelion
---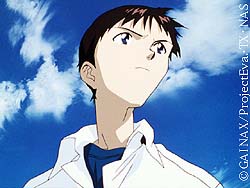 Ikari Shinji

Shinji is a shy loner and not very confident. His mother, Ikari Yui, died when he was young, and his father, Ikari Gendo, has never wanted much to do with him since his mother died. However, the very first time he worked with the EVA he had had no training, but he instantly synchronised with the machine. He pilots EVA-01 and is known as the "Third Children".


---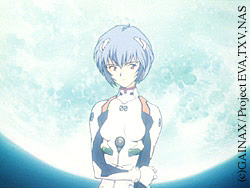 Ayanami Rei

Rei was the first pilot, and she was injured during testing of the EVA-01 Unit. Shinji had been called on to pilot when she was still injured. Gendo and Rei are very close, and Gendo pays more attention to her than to his own son. Later on it is discovered that she was created by Gendo and modeled after Ikari Yui, which explains Gendo's attention to her. Rei is quiet and withdrawn and rarely expresses anything. Throughout the series she discovers how to be human and how to associate with other people. She pilots EVA-00 and is known as the "First Children".


---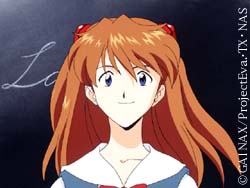 Sohryu Asuka Langley

Asuka is a very competitive girl. She is 3/4 German and 1/4 Japanese. Her mother died when Asuka was little, for which she holds a lot of anger. She expresses a lot of anger toward others. She would rather die than to fail or to retreat. Asuka feels that she always needs to be the best at everything and resents those who are better than her, especially the other Eva pilots. She pilots EVA-02 and is known as the "Second Children".


---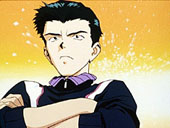 Suzaharu Toji


---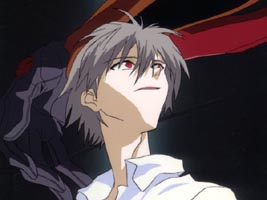 Nagisa Kaoru


---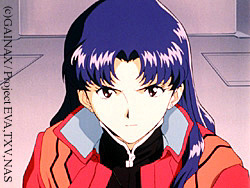 Katsuragi Misato


---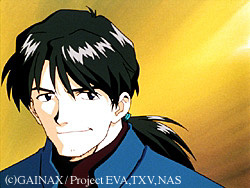 Ryoji Kaji

Kaji works at NERV under Gendou, and has a lot to do with the secrets concerning the Angels. Kaji befriends Shinji, and helps him work through some of his struggles. He has some hidden secrets of his own, which are revealed throughout the series.


---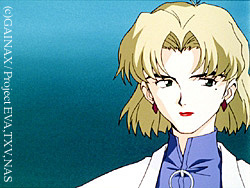 Akagi Ritsuko

Ritsuko is the head of the Evangelion Development Project. She is very stubborn and also quite smart. She is one of the top workers on the Project NERV. Her mother was the one who developed the MAGI computer system. She had a relationship with Gendo, but he is not emotionally attached to her and she is attached to him.


---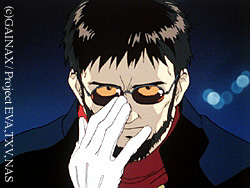 Ikari Gendo

Gendo is extremely withdrawn and unemotional because of the loss of his wife and has devoted himself to the Evas. He does not pay much attention to his own son, but instead devotes his time to Rei, who is modeled after his late wife. She meant everthing to him and he even changed his last name to hers when they married, rather than the tradition of the wife taking her husband's name. He does not express himself nor does he show emotion, and seems rather cruel. The motivation for his bizarre actions is usually unknown.


---


Ikari Yui

Yui is Shinji's mother and Gendo's wife. She died in a tragic accident while tesing the prototype Evas when Shinji was very young. Gendo then developed the Evas after her. Her death caused Gendo to close himself off from the world. The Evas seem to have souls, and this may be connected to Yui. Especially in the episode in which Shinji is trapped inside an Eva, when he experienced hallucinations and memories of his mother. This is also why Shinji synchronises so quickly with the Evas, and why EVA-01 protects Shinji when he is in danger.


---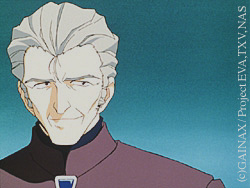 Fuyutsuki Kouzou


---


| NeoTokyo-3 | | NERV Database |
| Misato's Apartment | | SailorSrs' Home Page |